An acronym for "What You See Is What You Get", the WYSIWYG is the text editing tool used in GW Drupal. It uses much of the same functionality you'd see in a word processing program with some additional features that are specific to publishing website content.
Key Features in both themes
Create links to documents and pages internal or external to your website
"Paste As" icons that remove hidden code and formatting from Microsoft and PDF documents, and external websites that can break your pages
A Source button so that tech-savvy users can access the HTML source code if needed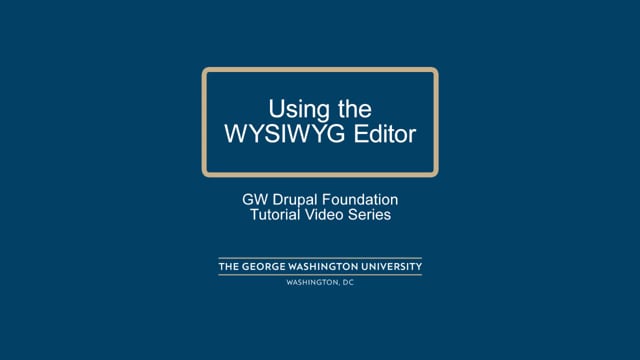 Features Exclusive to the GW Drupal Editorial Theme
Additional font styles have been added to the WYSIWYG text Styles dropdown to allow site owners and content managers to visually define and elevate text from the regular paragraph styles when necessary. For example, to stylize block and/or pull quotes within a larger chunk of surrounding paragraph text.
Marketing Text
Testimonial Light
Testimonial Heavy
Statement Styles
Statement styles allow content managers to use text for visual impact instead of - or in addition to - graphic design elements, for a more stylized display.
Statement styles must be manually turned on by Marketing & Creative Services. Please email [email protected] to provide more information about your goals and needs for the Statement styles options.
Headline Liberator
Infographic Large
Infographic Small
Statement Text Hoefler
The WYSIWYG Templates were created to allow site owners and content managers to design more fluid page layouts than a single, double, or triple column style allows for.
In combination with strong graphics, the WYSIWYG tabs & accordions (exclusive to the Editorial theme) and additional font styles in the WYSIWYG Styles dropdown, inline WYSIWYG Templates are a great way to present your information in an eye-catching, easy to digest format.
The WYSIWYG Tabs & Accordions are a great way to present large chunks of related text on a single page, and in a condensed format.