The Person content type is used to display a biography page. The backend admin provides a number of fields that can be used or left empty depending on how much information a content owner desires to provide and display.
Supported information to display include a headshot, office location, website link, and multiple blocks of text to provide detailed information.
Using the Person page also allows content owners to create automated A-Z listings (aka, a directory), with additional display options available via Taxonomy Lists.
Creating a Person Page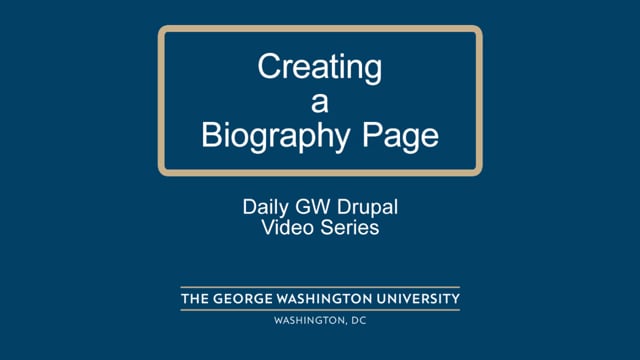 Hover over My Workbench > Create Content
Click on Person
A blank content entry page will load. Fill it in as necessary to create your Person page, and then click the Save button.
Subtype: can be used to create subtype-specific A-Z lists
Title: the page title

This will not be the name that is displayed
Be careful not to use the same title for multiple content items. By default, Drupal uses the content title to create a unique URL for all content items (including Supporting Content items).
If multiple items share the same title, Drupal appends the default URL with "-x" where x is a sequential number (i.e. -0, -1, -2, etc...) to account for the duplication. This can be overridden but is often missed.

First Name: the first name of the individual whose bio is being created, will be used as the display name
Last Name: the last name of the individual whose bio is being created, will be used as the display name
Site Placement: use to identify which content section the page belongs to so that it inherits the appropriate Global Content elements

Do not select Home unless this page should be featured on the homepage in some fashion
Body Header: allows you to create a custom subhead over the Body field
Body : the text field for a general overview of the person
Main Image: use to feature a headshot of the person

Editorial Theme: 1080x720 pixels
Classic Theme: 220x220 pixels

Main Image Alternate Text: required if a Main Image is uploaded; describe the visuals in your image and provide any text on the image verbatim

This will be read aloud to visitors using a screen reader and displayed on devices that cannot load the image. Check out the Accessibility page for more tips on making your website content accessible.

Main Image Title: text entered here displays in a tooltip popup if a desktop user hovers their mouse over the image
Prefix: an abbreviation to precede the person's name
Suffix: an abbreviation to follow the person's name
Middle Name: the middle name of the person whose bio is being created
Official Title: the person's title
Office: the office which the person belongs to
Building: the GW building where the person's physical office is
Street Address: the physical street address for the person's office
Street Address 2: a secondary line to provide additional physical street address information
City: the city where the person's physical office is
State: the state where the person's physical office is
Zip: the zip code for the person's physical office
Country: the country for the person's physical office
Phone: the person's phone number; format must be xxx-xxx-xxxx
Mobile: the person's mobile phone number
Fax: the person's fax number
Email: the email address for which to reach the person
Website Title: the name of the person's personal, portfolio or CV website
Website URL: the web address to the person's personal, portfolio or CV website

Check the Open URL in a New Window checkbox

Distinctions: a text editor to go into further detail about the person's achievements; will display with a subhead reading "Distinctions"
Areas of Expertise: a text editor to go into further detail on the person's subject matter expertise; will display with a subhead reading "Areas of Expertise"
Current Research: a text editor to go into further detail on the person's current research projects; will display with a subhead reading "Current Research"
Education: a text editor to go into further detail on the person's educational background; will display with a subhead reading "Education"
Classes Taught: a text editor to go into further detail on courses the person currently or previously has taught; will display with a subhead reading "Classes Taught"
Publications: a text editor to go into further detail on published works by or about the person; will display with a subhead reading "Publications"
Generic Section Label: a free form subhead label to display above the Generic Section Body
Generic Section Body: a text editor to go into detail on any topic not predefined in the other text editors
Video Link Title: backend field that website users do not see; use to identify what video is linked to in the Video URL field
Video Link URL: paste in the Vimeo or YouTube video embed link
Right Sidebar Content: use to display Supporting Content in the right sidebar by typing in the name of pre-existing content into the field(s)
Left Sidebar Content: use to display Supporting Contentin the left sidebar by typing in the name of pre-existing content into the field(s)
Tagging: leave collapsed and as is, unless a taxonomy tagging plan for the website was developed
Panelizer: Site Admin accessible-only; leave as is
Menu Settings: always check the "Provide a menu link" checkbox

Delete the link text to maintain the breadcrumbs, but prevent a link from appearing in the navigation bar, dropdown or sidebar. Recommended for Article and Event pages; and, typically, for Person pages.

URL Path Settings: leave as is, unless you want or need to customize the page link
Scheduling Options: not recommended for use
Meta Tags: use to provide page-specific metadata for search engine optimization
Authoring Information: leave as is
Publishing Options:

Promoted to front page: currently non-functional
Sticky at top of lists: forces the page to be at the top of any taxonomy-based list(s) it has been tagged to
Moderation notes: can be used to describe any edits that were made to the page
Moderation state:

Draft (default) is an un-published page only accessible to logged in Drupal users
Needs Review is a page with completed edits that needs to be reviewed by a Content Supervisor or Site Administrator
Published pushes the page live to website visitors and is only accessible to a Content Supervisor or Site Administrator
Sample Editorial Theme Person Page Sample Classic Theme Person Page