The Repeating Sidebar content set allows you to display sidebar items consistently throughout the entire website or throughout a specific section via Site Placement versus adding the item(s) to each individual page. For instance, you can display a Promotion or a List of quick links throughout, if desired.
As with all Content Sets, the item(s) that will be featured must be created first, before they can be added to the Content Set.
Create a Repeating Sidebar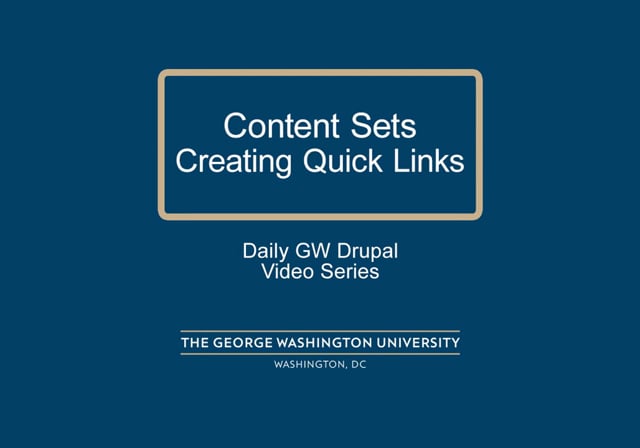 Hover over My Workbench > Create Content
Click on Content Set

A blank content entry page will load.

Select All Purpose Sidebar - Rotating from the required Subtype dropdown options
Under Onsite Content, type in the name of the pre-existing content item you'd like to feature

Drupal will display a list of matching items

Select the appropriate item

You must select from the list. Do not simply type in the item's name.

Click the Add Another Item button to add additional slides
Repeat steps 4 and 5
Scroll down to the bottom of the page
Click on the Publishing Options panel
Set the Moderation State to Published
Click the Save button
Add a Repeating Sidebar to a Page
The Repeating Sidebar content set uses Site Placement to understand which page(s) to display on. In short, the page(s) and the Repeating Sidebar content set must share the same Site Placement value.
For the Homepage
Keep in mind, that Site Placement is hierarchical, using a parent-child relationship, with "Home" being the parent term for all others. So, using the "Home" Site Placement value tells Drupal to display the Repeating Sidebar content set from the homepage down to all subpages.
For Subpages
If you only want to display the Repeating Sidebar content set across a set of subpages, it must share the Site Placement value for that section. For instance, if you want to display it across pages under an About section on your website, that section must have a unique Site Placement value (like "About") and the Repeating Sidebar must also be given that Site Placement value.